B
orn in Milan 1975. lives and works in Milan She works mainly using photography, video and video installation. her language and 'fusion of more' genres from that cinematrografic to that music video clips; often his autobiographical works explore nature on the identity 'issues and memory that embraces the social history and collective through the reworking of scientific sources, literary ideas or news stories.
Recent Portfolios
Artists' Catalogue
Available videos: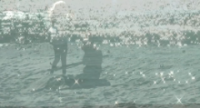 Starting from a personal experience, I begin to think on how people deal with a process of transformation to overcome some painful or traumatic circumstances. This process of transformation or to build up again, to resist, is similar to an engineering procedure where a material resist without braking, this is called: Resilience. The opportunity to think about this process come from a medical exam, MRI, that I had to take. The obsessive, annoying and very loud sound (noise) that I have concentrated on during the exam, could make the exam almost impossible to carry through, considering that you are close in a very narrow place similar to a technological coffin. The claustrophobic and suffocation feeling is very tough. But the hypnotic sound of the machine brings you in a kind of "Rave party", very close to a trance. If you close your eyes for the entire time of the exam you can experience something that may be pleasant. A sort of an abandon, a new dreamlike dimension. Memories come up out of nowhere, images fly in front of you and you can loose yourself in them, until you forget where you are.

The voice that tells the horrors of the atomic bomb and the images of a beach where two children chasing the waves. a series of atoms from the invisible door to nothing, understood as the negation of the whole. Surviving nothing, and be able to tell with the lightness of a psalm, it is the privilege granted to the hibakusha.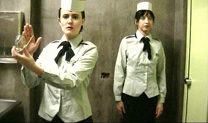 Choose some comfortable clothing with a combined bag. Choose a sitting room to pay installmentswith a sofa, armchair and carpet, choose to slip in a blue tailleur, flight AZ 345, make the right choice the safety jacket will be on your side, the emergency lights above your head, will switch on and off the take-off will guarantee a big breath in alternated rhythm. Choose to breath oxygen. Forget the launch break and the post office cues. Choose the fault, the imperfection , the mistake.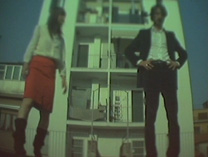 Operation tn is a tribute to Monica Vitti in the film "The Girl with gun" By Mario Monicelli. All video and 'built around the sound part, the images were utilizzateper emphasize and underline the dialogue, thus creating' a rhythm that is repeated in a circular motion, a loop always built on the same scene, which sees the alternation of two different female performers.