B
orn 1976 in Bolzano (IT). Lives and works in Berlin (DE)
Recent Portfolios
Artists' Catalogue
Order Now
Available videos: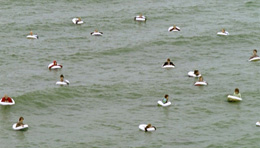 The video "Planschen" metaphorically embodies the lack of anchor points we experience in our time and is represented through a mass of people swimming around in the middle of the ocean; each one supported by his own tyre-tube. The protagonists are 3 women and 3 men floating next to each other. During the 5-minutes video they start gazing each other, sometimes with looks filled with jealousy, sometimes filled with deep sarcasm.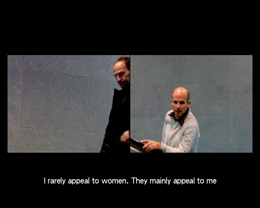 In this work an escalator within the metro station Potsdamer Platz in Berlin transforms into a location for a research of a partner. My attempt was to put in scene a flirt between adults carried up and down by an escalator and the observer. Unexpectedly, while they are moving up and down, the protagonists start addressing to the observer short sentences about themselves and their expectations of a new relationship, as if inviting the him/her to a confrontation with their real necessities and wishes. These sentences are derived from interviews with Berlin-based women and men aged between 30 and 40, who, after a separation, started to perceive themselves once again as potential partners in a future relationship.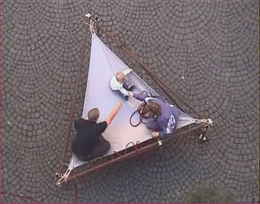 In this video a young family is sitting on a triangular piece of fabric suspended above the ground in a central street of Bolzano. During the video first the father, than the mother, and finally the child, who gets initiated in this practice by the mother, are threading a string around the triangular structure, in order to confer stability to it. In this work learning to shoulder each other and to take on collective responsibility – all at the same time – are shown metaphorically. Through the pulling of the strings one takes care of stability, but at the same time defines self- referentiality.