M
assimiliano Viel attended studies in electronic music, orchestra conducting ethnomusicology and composition in Milano, Parigi, Salzburg, Odense with professor such as A. Corghi, M. Stroppa, K. Huber, B. Ferneyhough, K. Stockhausen, F.Donatoni and T.Murail.
In 1989 he abandoned the performing activity with piano to pursue new sounds and performing techniques with the electronic keyboard.

As a keyboard player he collaborated with ensembles such as the Caput Ensemble 
from Rejkiavik, the Quartetto Arditti from London, MusikFrabrik from Düsseldorf and orchestras such as the Teatro alla Scala Orchestra from Milano, the WDR orchestra from Cologne and the Orchestra of Paris, 
with whom he performed in all the most important theatres in Europe. In 1997 he performed K.Stockhausen's "Klavierstuck XV" in Mercure Theatre of Montreal, Canada as a canadian premiere. He collaborated as interpreter and assistant with composers such as K. Stockhausen, L. Berio, L. Francesconi, A. Ingolffson, F. Romitelli and F. Guerrero.
At the same time he developed an aesthetic and technical research in musical composition, realising scores for acoustic and electronic instruments, from solo to full orchestra, performed in Europe, USA, Australia, Mexico, Indonesia and Egypt.
 As a result of his long time interest in the relationship between music and other expressive means, he realised a large number of performances in close contact with theatre, video and dance.
In 2001 he started a collaboration with Otolab, one of the most worldwide known italian audiovisual team, with whom he created projects performed in the most important international festivals. In 2002 he founded Sincronie, an association devoted to explore the interactions between the western written music tradition and the manifold issues of contemporary culture. Sincronie produces events, an acoustic/electronic ensemble and research/didactic activities. As a natural and complementary activity to composition and production he never ceased to conduct a continuous practise of theoretical research and didactics.
He holds the chair of "Composition for music didactics" at the "C.Monteverdi" Conservatory in Bolzano.
He is PhD candidate at the Planetary Collegium M-Node, University of Plymouth, UK.
Recent Portfolios
Artists' Catalogue
Order Now
Available videos: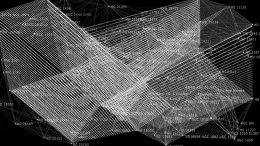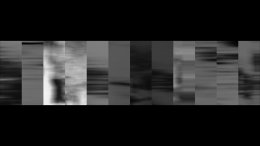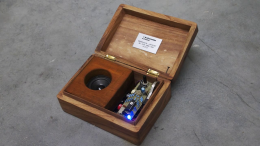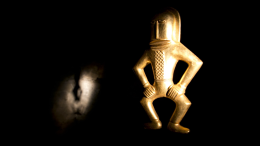 Golden sculpture, suspended in a dark stone room . Emilio Corti, sculpture - Massimiliano Viel, sound design