S
ilvia Camporesi, born in Forlì in 1973, BA in philosophy, lives and works in Forli. Through the language of photography and video builds tales that draw inspiration from myth, literature, religions and from real life.
Recent Portfolios
Artists' Catalogue
Order Now
Available videos: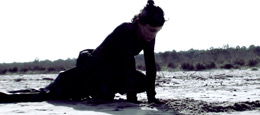 Sifr, dedicated to the sport of racing, offers a personal reflection on the way in which, starting from the body and by physical effort, we can come to a spiritual evolution. His career, like me-a metaphor for the spiritual journey, it becomes an endless journey. In front of her, suspended, a scale consisting of seven rungs that symbolically unites heaven and earth.
The second wind according to Gurdjeff's dissertation is the most powerful energy we can access when "ordinary" energy is over. This video relates to the chance of a spiritual raise accorded by the beauty and grace of martial arts. Shaira Taha, karate European champion, is playing parts of kata Unsu (a simulation of fight to be performed with great precision) within a cell. She will be able to get out of it thanks to a jump resorting to the second wind energy, raising her limits. As soundtrack, a melody tune by the artist in an unexisting language.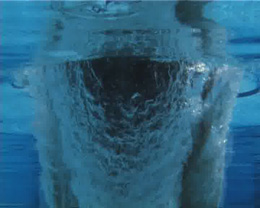 This video originates from a consideration about faith as what is not only connected with religion but with the more general idea of having a faith. A swimming pool hosts some fascinating lady's repetitive movements with no apparent evolution till she finds shelter in a most meaningful imagine: a cross on the pool wall, usually the symbol of the border for ordinary swimmers and eventually a revelation here.