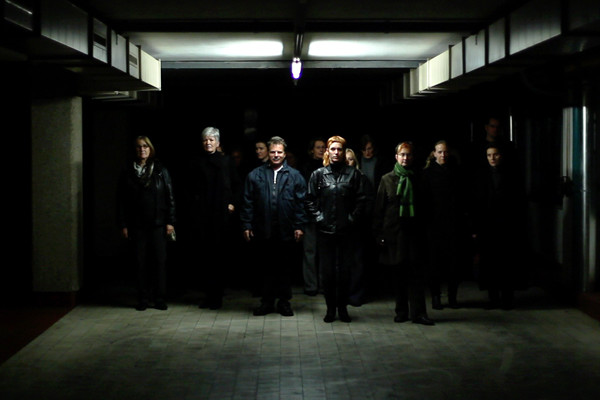 Inspired by the Lumière brothers' first film, La sortie de l'usine Lumière à Lyon, which shows a large number of workers leaving their factory's gate, Gruzei begins in the interior, in a passageway (made to seem incredibly long by the editing) that emerges from the darkness. Solely portions of the corridor — a production line at the closed Austria Tabak factory — flash into view in the buzzing neon light. The impressive sound and choreography of light were taken from an installation by the artist in the empty spaces.
The backs of the first workers, with their coats and bags, gradually enter the picture, and the camera accompanies these individuals as they leave their place of work. More and more of them walk down the dark, flickering hallway. By these scenes the weirdness of the space and the menacing quality of a mass of people who could form a resistance movement becomes increasingly evident. All relevant questions concerning the on-the-job reality experienced by these workers, most of whom are women, can be formulated by means of association: Is it nighttime when they leave the factory? What kind of work do they have to do? What do female laborers earn these days? How long does it take them to get home from this monstrous factory, and when will it be moved to a low-wage country?
When all the protagonists briefly gather as if for a photograph and look straight into the camera, it makes you wonder what a fight for humane labor would have to be like at present to be successful. The automatic gate opens and closes silently to release the anonymous crowd.
(Brigitta Burger-Utzer)
In collaboration/Courtesy Sixpack Film, Wien, AT.
Awards:
Local Artist Award – Crossing Europe Filmfestival
VAM young talents award for best young austrian shortfilm – Vienna Independent Shorts
Best experimental Short – Nashville Filmfestival USA
---
Recent Portfolios