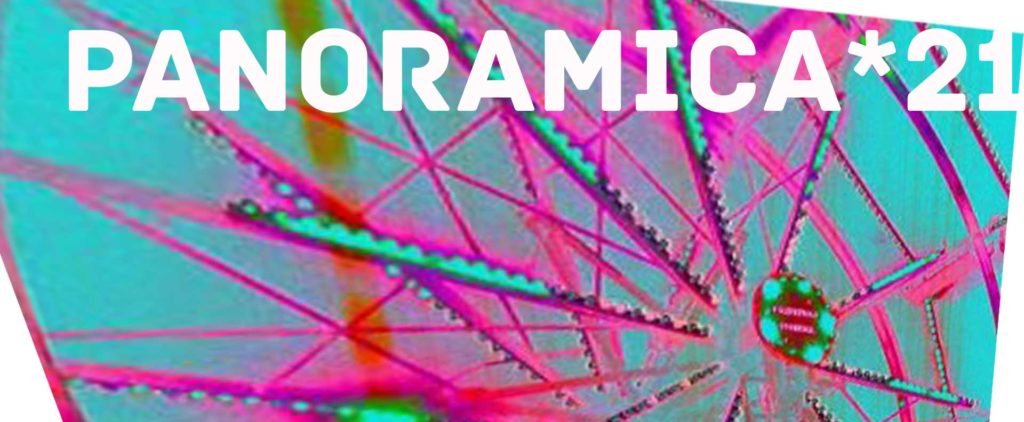 PANORAMICA*21 is the first edition of the new annual Visualcontainer project curated by Alessandra Arnò, dedicated to Italian experimental audiovisual production.
The idea arises from the need to collect the most representative works of the past year as a survey on the formal experimentation of the medium and the socio / political context, which has left traces in the artistic research of the authors.
At the end of the year, through a call, we invited artists who live and work in Italy to present the works produced and selected the most significant ones: the selection criteria applied are based on the originality of the language and contemporary research and experimentation of the audiovisual medium.
In this selection, for the first time, the concept of collectivity and temporal contingency was introduced, which is essential to suggest a limited vision and provide a further moment of reflection between the results of this first selection and future ones to compare in the overtime, the Italian video production of 2021 and the issues that influenced its formal research.
PANORAMICA*21 /// STATUS CHANGES
The videoart production of 2021 offers a varied overview of the experiments that the artists have ideally put in place to change status, cross a threshold or make a transition.
This need to go further, to explore other scenarios or to transfigure into another, becomes a practice implemented through technology, self-consciousness or the computational world.
The territories described in this selection are areas of passage, projections of our mind, places of memory or everyday spaces emptied of conscious presence, which become soft membranes to be crossed.
This selection of video art highlighted the recurring thoughts, practices and reflections on such a particular historical moment that, for the first time, unites both authors and viewers.
VIDEO SELECTION
Sonia Laura Armaniaco – Expandable and Fragile, 1:54
Lorenzo Papanti – Dimensional Spasm, 3:35
Matteo Campulla – Be here now, 3:33
Apotropy – Entelechia Obscura, 4:00
Gianni Barelli – Elegy of solitude, 3:35
Simona Da Pozzo – Humid Shared Volume, 2:29
Benedetta Fioravanti – A Fragment of The, 8:00
Duccio Ricciardelli – Albatros, 1:54,
Gianmarco Donaggio – Milano di Carta, 7:05 am
Silvia De Gennaro – Travel Notebook Italy: Rome, 4:49
Exhibitions and Screening:
MAC – Contemporary Art Museum of LISSONE (MB) 19.03 // 17.04.2022
PALAZZO DELLE ESPOSIZIONI ROME 04.28.2022
THESSALONIKI MUNICIPAL GALLERY, GREECE 18.05.2022
MORRA GRECO FOUNDATION, NAPLES 05.27.2022