B
orn in 1976 in Arezzo, Italy.
He's a visual artist and performer, he's graduated at Academy of fine Arts in Florence on 2002. His work is expressed with different media like video, installation and Performance.
The latest collaboration has been realized is with the Art magazine BAU with a long durational project call Synchronic Family Archive an open platform about the family connected with the idea of memories and elaboration of it. On 2012 has been selected for the italian Videoart distributor VISUALCONTAINER in Milan with the video "Genesi o melanconia del dormiente".
Has worked in various european cities in independent exhibitions spaces as INSTITUT FUR ALLES MOGLICHE in Berlin and GEBORGEN KAMERS in The Hague.
His work is heading between documentary and performance.
Recent Portfolios
Artists' Catalogue
Order Now
Available videos: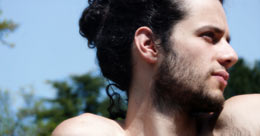 An analysis of all iconography led to the breakdown of the characters who reside in the fresco by Michelangelo of Genesis, the attention has focused on the position of the bodies, the posture of the masses and shapes. The simplicity led the research with an emphasis on two Linear Variable: horizontality and verticality. The engine driving the research was the concept of division: Two, intended as the number of evolution, is the double "equal and different from itself".
Concept and vision have found their meeting point in the solution of the dual screen, place a plank of overturning a totally geometric mean the reflection between the one and the other is based on meaning in the context of which the history.