L
ino Strangis is a media artist (video art, experimental animation, virtual reality interactive, sound art and experimental music) was born in Lamezia Terme on 01.19.1981, lives and works in Rome and Turin.
Already multi-instrumentalist musician (acoustic instruments, electro-acoustic, electronic, self-built, digital), graduated in Philosophy (Aesthetics address), during his university studies, after having had the first beginnings in painting and installations, identifies the experimental visual arts and dell'intermedialità research as beloved language and after short elapsed in the Roman underground, held his first official staff in 2005, to MLAC - Laboratory Museum of Contemporary Art of Rome, by the director Simonetta Lux.
Since 2006 takes part in many festivals, international exhibitions and historical exhibitions in Italy and abroad and held several solo exhibitions in private galleries and prestigious museums including MACRO (Rome), MAXXI (Rome), MUSEO PECCI (Prato), FABBRICA DEL VAPORE (Milan), MUSEO RISO (Palermo), MAUTO (Turin), PAN (Naples), GAMC (Viareggio), WHITE BOX MUSEUM OF ART (Beijing), MUBA (S.Paulo).
Also active as a sound and multimedia performer has founded various projects related to sound experimentation and free improvisation (solo and with groups such E.T.E.R.E. Project) and is the author of music and sounds for himself and other artists. also engaged as curator, critic and independent event planner: he founded the curatorial team Le Momo Electronique and from 2011 he is the artistic director of C.A.R.M.A. (Center of Arts and Multimedia Applied Research).
Co-author and director of Entr'acte intermedia (television show dedicated to video art), from 2012, he is an adjunct professor at DAMS Roma Tre University where he holds the laboratory of Digital Arts and from 2016 holds the course in Multimedia Installations the Academy of Fine Arts in Turin.
Creator essayist and curator edition (book + DVD) "The video art in the software world (published by Palladino publisher) has also written for various magazines and published essays on different issues. Also important are its commitments in environmental and multimedia installations and interactive sceneries: from 2011 collaborates opera Carlo Quartucci and Carla Tato, has realized the video-sets for musicals such as SHAMANS OF DIGITAL ERA (also conceived ) and the 70th GALA CONCERT of the Kazakh national Conservatory.
Have written about him and cared for his exhibits some of the best known experts in the field including Marco Maria Gazzano, Taiuti Lorenzo, Piero Degiovanni, Francesca Gallo, Anna Maria Monteverdi, Bruno Marino, Veronica D'Auria, Valentino Catricalà, Maurizio Marco Tozzi, Giacomo Ravesi, Mariagrazia Costantino. His works were exhibited alongside those of artists such as Nam June Paik, Bill Viola, Robert Cahen, Studio Azzurro, Miao Xiaochun, Steina and Woody Vasulka, Gianni Toti.
Recent Portfolios
Artists' Catalogue
Order Now
Available videos: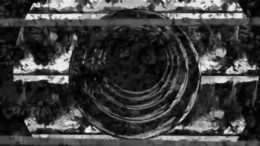 It is displaying of a trip in an hypothetical collective mind during a metaphoric dream, the eve of a momentous change. The earth trembles, and with it the psyche structures and the foundations of thought, as they prepare major challenges and it is necessary to take responsibility for re-inventing the mind and the world by finding a different balance.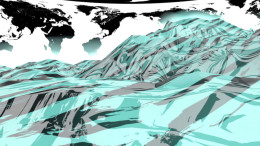 Metaphysical orogeny is moving metaphor of intense change in the dominant values structures, one major upheaval shaking from the deep bowels of the tectonic plates of a culture. An earthquake of the minds and world view ... The beginning of a new era.
Thought unidentified flying is "a moment out of time in which the eye focuses on a seemingly marginal corner of reality (a phenomenon of light refraction in the dark of night) to start, as in an airport of the mind to a brief but intense travel in between dimensions. One thought that the wheel you have to view the universe, a macrocosm of music, founded by the sound, driven by a perpetual vibration. A dance in which the universe thought you forward in search of knowledge and freedom, to a series of views: further interpretations of reality as perceived phenomenon. THOUGHT UNIDENTIFIED FLYING is a symbolic vision, an apparition, an allegorical means audio can see a dip in the beyond-worldly, human imagination when pushing into the unknown. We watch the metaphor intermedia of some mental behavior underlying the entire history of humanity and its evolution: the impetus for the further and different from simply known that allowed us to continue to exist as a species.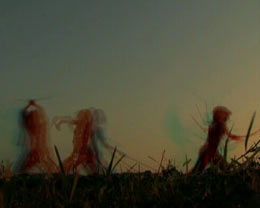 This work started in the context of video art that confronts openly with cinema and literature, rethinking the concepts , aesthetics and characters : the apparent refusal of approach to these forms of expression in a reconsideration in their own way and with their own original instruments , themes and references in question. The symbolic figure (especially thanks to the famous film by Q. Tarantino's " Kill Bill ") of the samurai woman , already perceived as original and captivating , is profoundly reinterpreted in the staging of an inner struggle , mental . A challenge it is not the classic "bad" but she herself , who in a moment of epiphany it turns out determined to tackle the multiplicity of his being in a fight that is mixed with dance. Today's version of intermedia and purely speculative dimension inaugurated by Pirandello in " One, no one and one hundred thousand ," Battle plays in her mind is a profound example of the interaction between performance and digital post-production . Another peculiarity of this work emerges from the audio track ( made ​​by the same Strangis ) that combines ancient Japanese melodies and electronic music , as well as the use of two types of semantic definition ( hd tv old and effect ) to further emphasize the double dimension " in her mind / out her mind.".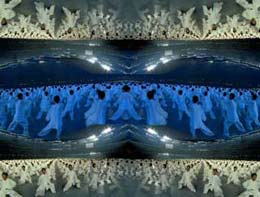 In this videowork, Strangis refers to the DVD presenting the 2008 Olimpic Games in Pechino as a most meaningful subject with respect to the way China is currently introducing to the global scenery… By selecting some very short sequences that he calls "sensible interstices of the audiovisual product", Strangis is re-editing one of the spectacular and magnificent choreographies by enhancing the features that most strikes him through multiplying and re-spacing devices: "I've always been impressed by this founding aspect of the Chinese culture which I feel both envy and fear for: I envy their abilities in being a single corps but I also fear the loss of identity that this brings along.
I have kept my video within this bivalence, as expressed by a sountrack which is mysteriously hollow and contemplative at the same time"