L
uca Ferri (bergamo, 1976) works on images and words. In 2005/2008 he directed short-, medium- and feature-length films that took part in competitions and were hosted in exhibitions. In 2011 magog [or epiphany of the barn owl] was screened in Bergamo; in 2012 it has been selected for some film festivals, such as 48th mostra internazionale del nuovo cinema (pesaro). The feature film ecce ubu (2012) has been screened in some art galleries. his last work, the shortfilm kaputt/katastrophe (2012), took part in competition to the cinemazero festival in trento. His works have been produced by lab80film and recently acquired by circuito nomadica. in 2012 he has been selected for the filmmaker workshops in milan held by ben rivers, michelangelo frammartino, leonardo di costanzo. In 2013 the film habitat [piavoli], portrait of the famous italian director directed with claudio casazza, is selected at torino film festival.
Recent Portfolios
Artists' Catalogue
Order Now
Available videos: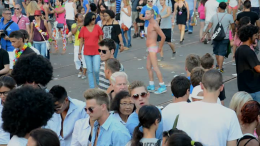 In a sunny and summer zürich, young people from all europe meet for the street parade. The purpose is to be different, original, modern projected to the subversion of the current status. the new rule for the next eight hours is breaking the rules. everyone has become an actor without spectators, trying to represent himself.
a musical score, severely written, has been wearilyand obsessively played while an off mechanical voice repeats us of a catastrophically unchanged and unchangeable human condition. in the deformed and grotesque flow of human events, an old beardedfarmer suddenly appears, looking around and staring at us for a moment. maybe it's a rest, a place to hope, but then everything starts again as anything happened, in the same point where everything didn't start.
There's no place, no life, no way to hope, there's not.