B
orn in 1989 in Varese (IT). She studied Photography (BA – IED, Milano), Visual Arts and Curatorial Studies (MA – NABA, Milano) and Contemporary Art Practice (MA – Plymouth University, UK). Her practice involves mainly images in motion, with a particular focus on video and archaeology of cinema. She lives and works in Milan.
Recent Portfolios
Available videos: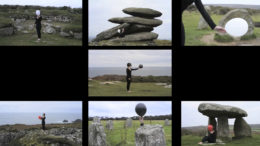 The project "00:00:01:00" is an installation of seven video-performances that last one second. The title refers to the timecode used in video production and film making, which technically corresponds to hours, minutes, seconds and frames. In each video the artist bursts a balloon with a needle in different prehistoric sites in Cornwall, suggesting the idea of ephemerality and fragility. This is a metaphor for geological ages: it has taken many years years for our planet to transform and grow and in just one second we are destroying everything. It links to discussions concerning the Anthropocene, an epoch characterized by the global impact human activities have had on the Earth's geology and ecosystem.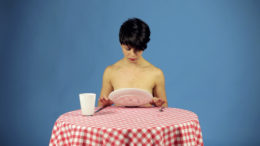 In the video-performance "Naked Lunch" the artist, in a joyful and dreamlike atmosphere, stages an imaginary lunch: she eats alone without caring about the very act of eating, so that she does not even realize that her dish is empty. Most of our daily actions are meaningless and mechanical; we are deceived that what we do can nourish us, but it is rarely like that. In few moments of awareness we realize that our food does not exist, but we lose soon our clarity of thought. Everything repeats eternally and the rewind remarks that it is all fictitious.